At a recent "Getting it Right" Emergency Management Access & Functional Needs Conference, several fascinating presentations and panel discussions took place. The focus was on safety of vulnerable members of our population during disasters. Such vulnerable members include people with disabilities.
After about 4 captivating hours of different approaches on mitigating, preventing, and helping such people, there was one about informing people about impending disasters. I thought, what if we implemented the concept of Universal Design into Emergency Management and the ADA?
History of Universal Design
Now, the concept of Universal Design is one that is often misunderstood and misapplied. Universal Design is a term coined by an architect, Ronald Mace who wanted to focus on accessible housing with a universal design. Mace championed accessible building codes and standards in the United States. Mace's term universal design exemplifies an all-inclusive philosophy of barrier free design.
Mace was born in New Jersey and contracted polio as a child. As a student at North Carolina State University School of Design, Mace encountered barriers in his wheelchair. Mace became an accessible built environment activist due to the inaccessible design of many facilities that he encountered. He was involved with the passage of North Carolina's Chapter 11X, the first accessibility-focused building code in the United States. North Carolina's Chapter 11X became the model for other States to follow. This also influenced Federal legislation prohibiting disability discrimination. The requirements came to be included in the Fair Housing Amendments Act of 1988, and the Americans with Disabilities Act of 1990.
The concept of Universal Design is credited to Mace but it is Selwyn Goldsmith of the United Kingdom who contributed the idea of curb cuts. Goldsmith, after consulting with 284 other wheelchair users, conceived "dropped kerbs" in the early 1960s, better known as curb cuts today. The City of Norwich in the United Kingdom was the first city to install curb cuts at different intersections. Today, curb cuts are a common feature throughout the world.
Accessibility legislation such as the Architectural Barriers Act (1968); Section 504 of The Rehabilitation Act of 1973; the Fair Housing Act Amendments (1988); and the Americans with Disabilities Act (1990) established minimum requirements to protect people with disabilities from discrimination. Universal Design focused on making the environment more accessible above and beyond the minimum requirements that law may require. Designers must focus attention on improving function for a larger range of people. While ensuring accessibility, these laws fail to address equity and diversity of use.
In 1985, Ron Mace cautioned that Universal Design should be: "The design of products and environments to be usable by all people, to the greatest extent possible, without the need for adaptation or specialized design" (Maisel & Ranahan, 2017). Mainly from the need to reevaluate existing legal mandates to ensure usability by people with disabilities, the Principles of Universal Design were developed at the Center on Universal Design, North Carolina State University in 1997.
Seven Principles of Universal Design
Equitable Use

Flexibility in Use

Simple and Intuitive

Perceptible Information

Tolerance for Error

Low Physical Effort

Size and Space for Approach and Use
Universal Design emerged from a barrier-free design concept within the built environment, to one of accessible design in all things for all people. This Universal Design approach is currently embraced by the broader accessibility movement. The focus expanded to include adaptive and assistive technology. 
Accessible Design vs. Universal Design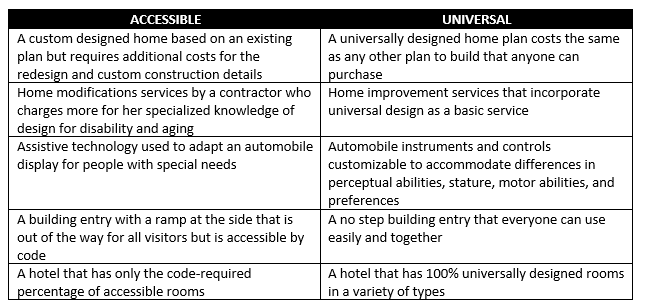 Modern Universal Design 
The ADA National Network further defines Universal Design as "inclusive design" and "design for all," as an approach to the design of products, places, policies and services that can meet the needs of as many people as possible throughout their lifetime, regardless of age, ability, or situation.
While we have the 2010 ADA Standards for Accessible Design, thanks to pioneers such as Selwyn Goldsmith and Ronald Mace, we need to remember that Universal Design was developed out of necessity. There have been developments that we are all taking for granted because of their universality such as:
Curb cuts or sidewalk ramps that was originally intended for people in wheelchairs but now used by all;

Automatic door openers are becoming the standard in all places;

Low-floor buses with ramps or that lower themselves when picking up passengers are becoming more common everywhere;

Cabinets with pull-out shelves, kitchen counters at several heights are becoming popular options everywhere;

Captioning feature, while originally intended for deaf people are now being used by more people who are not deaf themselves;

Design of handles and utensils are becoming more universal and easier to use; and

So many more things are now designed with the Seven Principles of Universal Design in mind.
So, let us put our minds together and strive towards a Barrier Free World that is built around Universal Design where everything is easily accessible for EVERYONE so that we will have a world where accessibility is the norm and not a requirement!