Featured Image
Image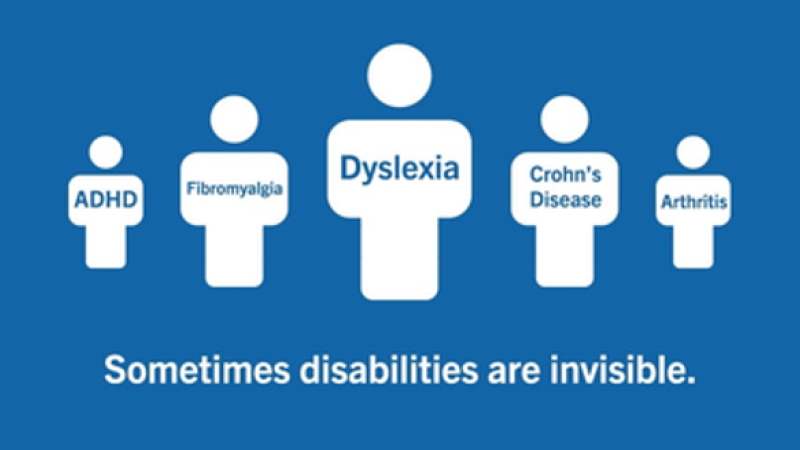 Millions of Americans have illnesses or disabilities that are not readily apparent. Those of us with invisible or hidden disabilities often hear things like this: "but you look good" or, "it must be in your head" or, "get your act together, there doesn't look like anything is wrong with you." Although these invisible disabilities are not obvious, they can sometimes or always limit daily activities, range from mild challenges to severe limitations, and vary from person to person.
Invisible disabilities include:
Debilitating pain
Fatigue
Weakness
Dizziness
Cognitive disabilities
Epilepsy
Brain injury
Migraines
Mental health disorders
Learning differences
Hearing and vision disabilities
Such disabilities, including those that are emotional, neurological and physical, can leave us feeling isolated, unseen, stigmatized and more. We judge each other often by the way we look and what we see, and often this can lead to misunderstandings. We've all seen someone who parked in a disabled spot, and when they get out of the car, it looks like nothing is wrong with them. How do you react? Do you think, "I wonder if they have a hidden disability," or instead, "I can't believe they are cheating and faking just to walk a few steps closer."
It's important to not evaluate others by what we can see and to not assume a person can or cannot do something based on the way they look. This can be equally frustrating for those who may appear unable and are perfectly capable, as well as those who appear able and are not. We are all different, with varying challenges and needs, strengths and weaknesses, as well as abilities and attributes. Let's commit to begin listening with our ears instead of judging with our eyes.
Finally, if you have an invisible disability, there are resources and supports for you. If you are an HR manager, supervisor or co-worker, and want to commit to creating an accommodating workplace culture, take some time to learn about invisible disabilities. Below are some resources to help you along the way:
This blog post was written by RMADAC Brand Ambassador Jennifer Scilacci. Jennifer is the Manager of Partnership Engagement and Commuincation at the Colorado Department of Labor and Employment, Division of Vocational Rehabilitation.