Featured Image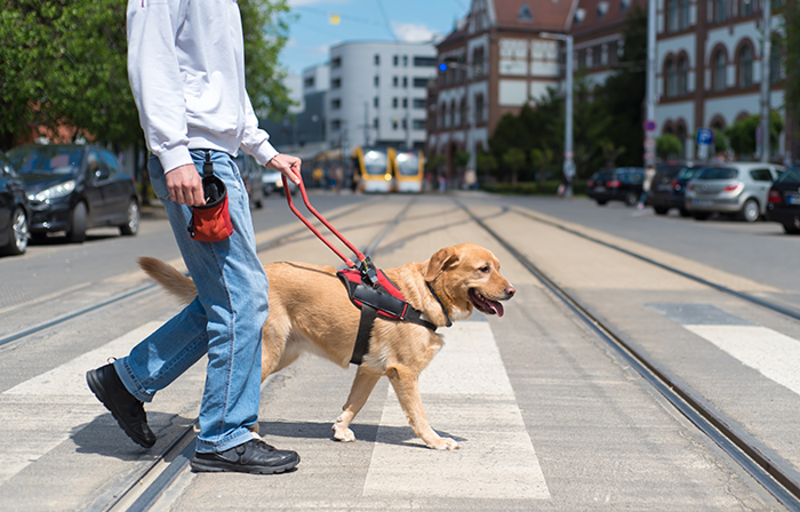 Summary
It is critical that etiquette and special guidelines are followed in the presence of a service animal to allow for the safety of both parties.
Service animals have very important jobs. They are specifically trained to help people with disabilities in a variety of ways, ranging from mobility to psychological issues to chronic health conditions. Because of their specific training and role in the life of their handler, it is critical that etiquette and special guidelines are followed in the presence of a service animal to allow for the safety of both parties. Disregarding these guidelines can distract the animal and potentially create a dangerous situation for the dog and its handler.
Here's what to know when interacting with service animals and their handlers.   
SERVICE ANIMAL VS. EMOTIONAL SUPPORT OR THERAPY ANIMAL
First, it helps to understand the difference between a service animal (usually a dog but can sometimes be a miniature horse) and an emotional support animal (also called a comfort animal) or therapy animal.
For Titles II and III, a service animal is defined as any dog that is trained to do work or perform tasks for an individual with a disability. Other animals, whether wild or domestic, trained or untrained, are not considered service animals. While these animals can be cherished and loved as such, they are not pets. When out and about in public with their handlers, remember that service animals are working. Any privately owned business that serves the public, including restaurants, airlines, hotels, theaters and sports facilities, must allow service dogs to accompany their handlers.
Emotional support or therapy animals are not considered service animals under the ADA. These types of support animals provide companionship, help individuals with depression, anxiety and other phobia, but do not have special training to perform tasks and assist people with disabilities.  Therapy animals can provide people with comfort contact, typically in a clinical setting, and can improve their physical, social, and/or emotional performance.
CAN I PET YOUR SERVICE ANIMAL?
It is always best to ask the handler before approaching any animal if you are allowed to pet them. Even if the service animal looks like it may be "resting" or "off-duty," do not assume that you can interact with it. If the handler is not present, do not pet. Always ask.
DO NOT DISTRACT THE ANIMAL
As tempting as it may be, try not to distract a service animal by making noises, offering them food, water, toys or other treats. It can be dangerous to the person, and it can confuse the working animal.
DO NOT ASK PERSONAL QUESTIONS ABOUT SOMEONE'S DISABILITY
It is not polite to ask another person about their health or disability or even their reason for using a service animal. Not only can it be intrusive, but it can be illegal to ask under the Americans with Disabilities Act. If you must ask, only two questions pertaining to the service animal can be asked: "Is your dog a service animal required because of a disability?" and "What work or task has the dog been trained to perform?" But remember that these questions should only be asked when a disability is not evident, and only by an authorized person from the business or organization.
DO NOT IGNORE THE HANDLER
Address the person handling the service animal when approaching them. Speaking to the service animal is another distraction from their work. It is important not to ignore the handler if they should ask you to step away. They know best how their service animal works.
GIVE THE RIGHT-OF-WAY
Giving a service animal and their handler the right-of-way in walkways or other areas can help make navigating easier. Never walk the animal without permission, as it can confuse the animal and might cause an accident.