Featured Image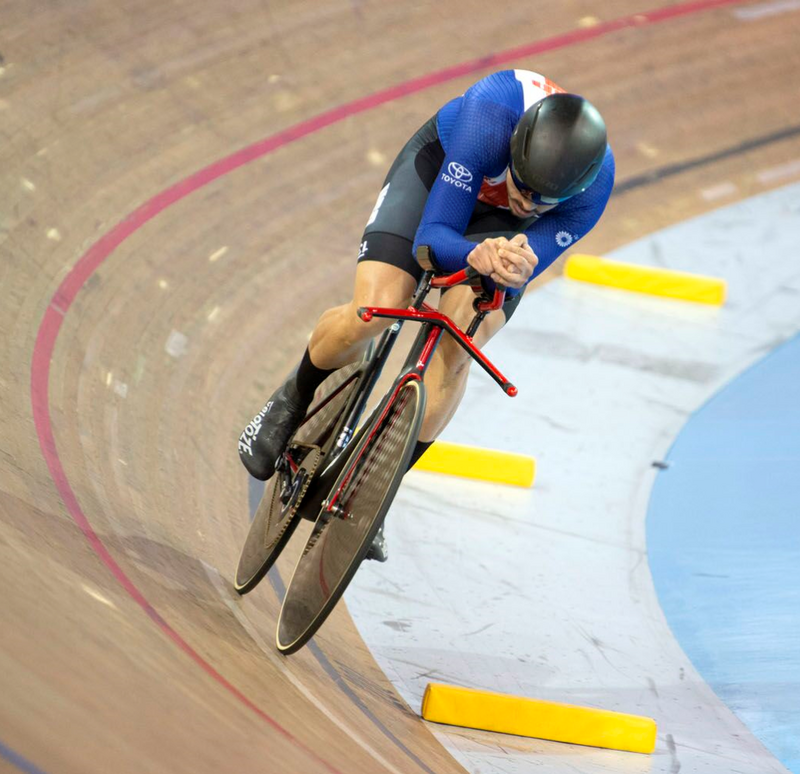 Summary
Announcing my naming to the Paralympic team, what I'm thankful for, and how I got here.
I'll get right to the point: I have been officially named to the Tokyo Paralympics Team to represent US Paralympics Cycling! I'll be competing in Japan this late August in the 1 Kilometer Time Trial on the velodrome as my focused medal-event. I am thrilled and honored to have this opportunity granted to me and have so many to thank for helping me get to this point in my athletic career.
My family has shown nothing but unwavering support for my cycling, and often are more excited about my results than I am. My teammates whom I train with will help me to perform my best during every training session by providing an example of hard work, a positive atmosphere, a welcome distraction from the discomfort of hard training, and checking in on me when I'm on the ground gasping for air after particularly hard efforts. My coaches layout the long-term plan, guide and encourage me to be better in all aspects of training and performance. The United States Olympic and Paralympic Committee has stepped up its support of Paralympic athletes over the years, which makes chasing dreams a real possibility.
The Rocky Mountain ADA Center has also been an integral component of my success over the past few years. Having a workplace with so many just plain good people is always something to be grateful for in itself. On top of that, having a personal connection to the job provides a sense of purpose to the work we do. Having that sense of purpose is helpful for the athlete version of me, as it gets my mind off training and helps me stay grounded. The RMADAC has also been incredibly understanding of my competition and training needs, accommodating me to work remotely when I'm traveling for training camps and competitions, and even recently allowing me to reduce my weekly hours to facilitate extra specialized training for Tokyo.
The past quad (or quint?) has had its ups and downs. I started off 2017 with a World Championship title in the Kilo and in the Team Sprint, which is our version of a relay. 2018 promised a lot but I ended up having an equipment failure which caused me to crash and break my collar bone the day before world championships began. 2019 also started strong, but a mechanical mishap with the start gate at the world championship tainted my results. The start gate did not open on time, which had been happening that entire day, with some athletes getting a re-start, some not. I did not get a re-start that day and ended up placing 3rd by 0.1s off from 2nd. For context, the start gate held onto me for an extra 0.3s. 
The 2020 Paracycling Track World Championships held extra weight than previous years. Our Tokyo Selection Procedures outlined that track-specific athletes would be chosen based off a ranking list developed from results of this competition. Everyone needed to do well to secure their pathway to the Paralympic Games. Just about 3 weeks before the competition, I missed a box jump in the gym, landed flat on my back, and ended up fracturing a rib. It was only a crack, but it was painful and there was nothing to do but wait it out. I kept it quiet, hoping that time would bring it around in time for the competition. Because of the injury, I couldn't perform any specific start work from the gate. Getting up to speed from a start gate is similar to doing a set of heavy deadlifts, so a broken rib is not conducive to that action. I could train while seated on the bike, so I trained as hard as I could with what I was able to do. By the time we traveled to Canada for the competition, just about 2 days prior to the event start, I had to test the waters and see if my rib was healed enough to do a standing start. Luckily, I had no pain. The competition ended up going well, even if I was slightly under prepared. I ended up setting a new world record in the flying 200m sprint and doing enough to place high on the internal ranking list. 16.5months later the Tokyo Team has been officially announced and I was on it.
The past year and a half have not been easy on anyone. I'm not going to proclaim that it's any harder for an athlete. It has been a year to test the commitment of athletes with ambitions of performing at the Games. I feel that I have made the most of this time and will be as prepared as I can to help further develop the sport I compete within. I'm far from the favorite to win, but I want to show the world just how good I can be when I'm fully prepared.