Featured Image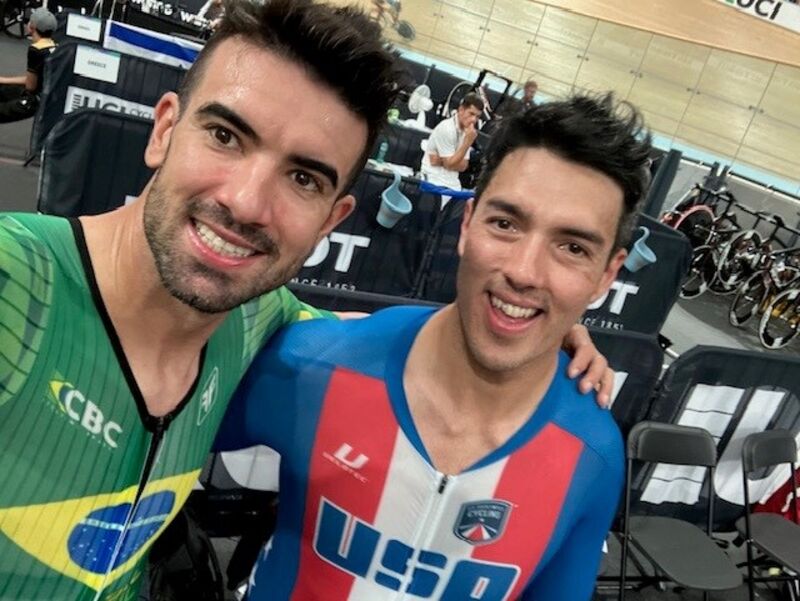 Summary
My career competing in Paracycling has come to a close. I reflect on my last competition and what competing has meant to me over the past 10 years.
The 8th of August 2023 was a significant day in my life. On this day was my very last race competing in Para Cycling. World Championships were held in Glasgow, Scotland from August 3rd – 13th for all Union Cycliste Internationale cycling disciplines, including the Para Cycling Track World Championships which I participated in. This was a first of its kind event, referred to as "Super Worlds." This was also the first time that Olympic cycling and Paralympic cycling were integrated into the same event held at the same time.
This was a very fitting event to call time on my athletic career. The sport has grown tremendously since I started competing 10 years ago. The times that Paracyclists are producing are respectable for anyone, with or without a disability. I would like to think I played a role in the sport's development.
My best race is the 1 Kilometer Time Trial, which is considered a sprint event. The best times in Paracycling are just over the minute mark. It's a race where pacing is not a factor. The strategy to cross the line fastest is simple: go as hard as you possibly can. In this race, the competitor starts by using a start gate that prevents the rider from moving until the countdown has completed. On the track, we used fixed gear bikes, so gear selection is a crucial strategy to plan prior to the start. Generally, the bigger the gear, the greater potential for faster top-end speed. The big gear is also harder (slower) to start, so one must weigh the opposing factors. Other factors influence gear selection too, like the ambient air density. Thinner air is easier to move through, so being aware of that the rider might choose a slightly bigger gear to ride. For years, the strategy for a fast kilo was to put on a gear that ensured a fast start. The fastest times in any time trial are generally the rides that minimize time moving slowly. To have a good start on a big, fixed gear requires quite a bit of upper body strength, stability, and coordination.
My disability affects me most in this part of the race. Because of this, I have spent years developing what upper body strength my nerve damage would allow me to discover. There's really no formalized way to teach gate-start technique, so I spent endless hours dissecting the best in the world for how they perform. For me, I realized the more I could perform the gate-start with good technique, the less I was limited by the nerve damage in my arm and shoulder. While this could never be completely mitigated, it did allow me to progress my riding. My times on the start lap did improve over time but ended up hovering around the same time for the past few years of my career. The difference was that I could do these times on a bigger gear. With that big gear, I could reach a good top speed and have less drop off when fatigued, since it required less coordination to turn the pedal when the legs are soaked in lactic acid. My disability forced me to figure out a slightly unconventional way to be successful and to articulate good technique in a way that was largely absent in my development. It is in this respect that sport is an analog for real life.
It's an unfortunate truth that people with disabilities spend much of their lives adapting themselves to a world that was constructed without them in mind. Scotland in particular was very inaccessible. Curb ramps were generally much fewer and further between in the areas I visited. Often when there was a curb ramp, the transition to the street had a one-inch lip to navigate. The cobbled streets and walks of the historic district are easier to understand that providing access is difficult, but much of the inaccessibility I saw was in neighborhoods which were much more recently constructed. While the United States is far from accessible to people with disabilities, I am grateful to have a law like the ADA in place because it provides the opportunity for things to get better little by little. Access is much worse in much of the world.
Getting back to sport, I will miss competing in Paracycling. I made many friends through the experience over the last decade. My competitors and I all had a common goal which was to demonstrate that people with disabilities can pursue their passions like anyone else can. People with disabilities may have limitations in specifics areas of life, but people with disabilities can be more capable at what they do than people without disabilities. Pursuing one's passions should not be automatically precluded because one has a disability, and Paralympic sport is a great opportunity to showcase that idea. It was not all rainbows and sunshine; however, I have received so much from the sport that I feel nothing but gratitude towards the opportunity to have experienced it.