Featured Image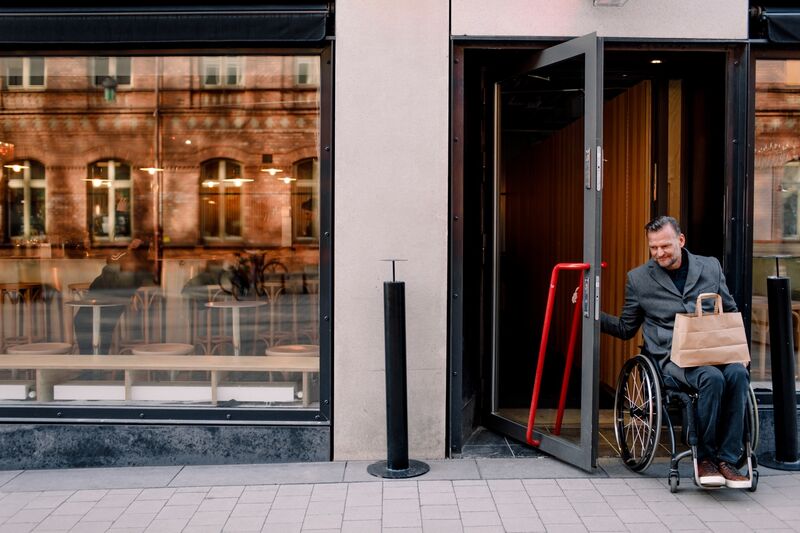 Summary
As potential customers, everyone makes choices about your business based on how easy it is to use.
Is your business accessible for all? Do people with disabilities frequent your place of business? As potential customers, everyone makes choices about your business based on how easy it is to use. For example, if the customer finds your staff unwelcoming or not helpful, they may not come back. Alternatively, if a person who uses a wheelchair cannot even get in your door due to steps, then they, their family and friends will go to another business they can enter.
Did you know:
Over fifty- five million people in America have disabilities. This does not include the ripple effect of family and friends. According to the US Department of Labor, this group has $175 billion in discretionary spending power. That figure is more than twice the spending power of American teenagers and eighteen times higher than "tweens."
Good access benefits:
• Parents or care takers of young children (particularly those with strollers)
• People with a disability
• Older people
• Delivery people
• Shoppers with heavy bags
• Every customer, particularly when it is busy
Four ways to improve access for ALL customers:
Make it easy for people to find you:
If your business is accessible, highlight those specific features in your promotions and advertisements.

If you provide a home delivery service or an online shopping service, promote this as well.

Make sure your outside signs are clear and easy to see for people with low vision or communication difficulties.

IF there is more than one entrance, make sure there are clear directions to where each entrance is.
Make it easy for people to come in:
Make sure the front door is easy to open (if not automatic).

Steps create a problem for people using wheelchairs or walking frames. You may want to consider providing a ramp.

Maintain a clear line of sight between entry and counter. Staff can then be aware of a customer needing assistance with entry or purchase.

Remove obstacles such as advertising boards and displays from the entrance.
Make it easy for people to get around:
Create a clear path of travel that is free of clutter and displays in pathway.

Use pricing labels that are clear, well positioned with high contrast colors.

Place popular goods within reach of someone using a wheelchair.

If your business is large, provide seating for people to rest.

Reduce music or background noise to assist people with hearing difficulties.

Ensure that at least a part of your customer service area is at a height suitable for wheelchair users.
Provide inclusive customer service:
One of the cheapest solutions is to change the way you think about customer service. It is not difficult to educate your staff on how to communicate effectively with all your customers and how to give practical assistance when needed.
What steps will you take to make your business accessible for everyone?