Featured Image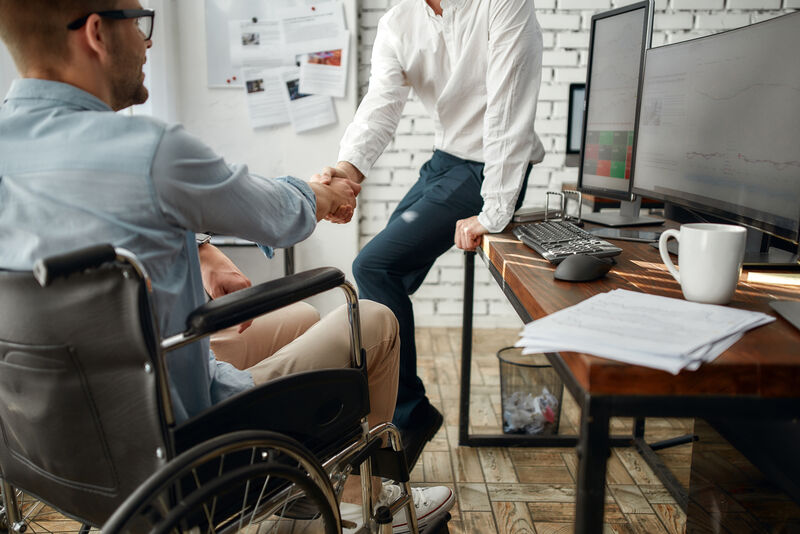 Summary
"Must Have Driver's License." "Must Be Able to Lift 100 pounds." "Must Have High School Diploma or GED." Really? These are sometimes listed on job applications as minimum requirements, or the "Essential Job Functions."
Barriers to employment sometimes appear as logical requirements but may serve to exclude individuals who would otherwise be qualified for the job. For individuals with disabilities who may not be able to drive due to a vision loss or other functional limitation, does the job actually require the person to drive? If you are going to be a taxi or truck driver, driving is typically a requirement, at least until the era of self-driving cars and trucks becomes the norm. What about a job where you have to be able to travel to different towns in your region, or across town to meet with people or provide services? Do you need a driver's license and access to a vehicle, or do you need to be able to get from place to place to complete your work? Could you take the bus, Uber, Paratransit, or Taxi? What if you have a personal driver?
You apply for a position at a factory and the position is for working on the potato bagging line. The job application says, must be able to lift 100 pounds on a regular basis. But the job you are applying for only has the requirements of lifting empty potato sacks to place in the machine that then fills the sacks with 50 pounds of potatoes and places them on a pallet, which a forklift driver moves to the warehouse for loading and shipping. The sacks you place on the machine you work with arrive on pallets in bundles of 30 which weigh 19 pounds per bundle. Your job is to lift the 30 bags weighing 19 pounds and load them into the machine. Does this job actually require lifting 100 pounds on a regular basis?
The U.S. Equal Employment Opportunity Commission (EEOC) provides guidance on many of these employment issues and the Job Accommodation Network (JAN) provides great information on Job Descriptions, Accommodations, and Compliance. JAN specifically addresses how to develop accurate job descriptions which include actual Essential Functions and Job Duties along with possible accommodations available to people with disabilities under the Americans with Disabilities Act (ADA).
One of the EEOC Informal Discussion Letters dated November 17, 2011, addresses the specific Job Applications when employers require applicants to have completed the requirements for a high school diploma. Although this requirement appears neutral and applies equally to all applicants it may exclude people in protected classes. The EEOC introduces the concept of Disparate Impact in its analysis.
The theory of disparate impact arose from the Supreme Court's landmark decision in Griggs v. Duke Power Co. (1971), a case presenting a challenge to a power company's requirement that employees pass an intelligence test and obtain a high-school diploma to transfer out of its lowest-paying department. Disparate impact, also called adverse impact, occurs when a decision, practice or policy has a disproportionately negative effect on a protected group, even though the impact may be unintentional.
For employers, reviewing job descriptions to determine actual job duties and essential functions may be a way to increase recruitment and have more inclusive hiring options.
The regional ADA centers are another great resource for this information.
Corey Birkholz, M.S. CRC
Corey has been involved with working with people with disabilities since the early 1990s in the Independent Living and Vocational Rehabilitation field, assisting people in accomplishing their goals. He has been involved with the Rocky Mountain ADA Center, utilizing their resources and expertise to assist others and advocate for better employment, program, and physical access for individuals.
He completed a master's degree in Vocational Rehabilitation Counseling from St. Could State University in MN in 1995 and continues to learn and share with others.