Featured Image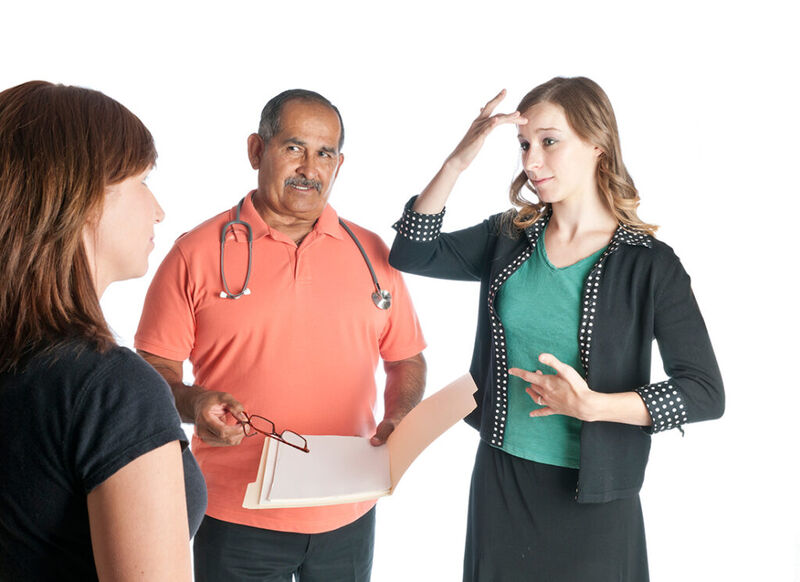 Summary
Effective Communication should be the result.
At the ADA Center we receive a variety of calls inquiring about communication issues. One common one is "Since we have contracted with a Video Relay Interpreting (VRI) service, why can't our organization use Video Relay for all interactions with all deaf patients?" It's a fair question, and it has some fair answers. And fairness IS the issue at hand. 
The ADA recognizes that people with hearing, speech, or vision disabilities use different ways to communicate. The ADA requires that a service provider ensure that "effective communication" takes place in any interactions with people with communication disabilities. The purpose of the effective communication rule is to ensure that the person with a vision, hearing, or speech disability can communicate with, receive information from, and convey information to, the covered entity, and is determined on a case-by-case basis:
Covered entities must provide auxiliary aids and services when needed to communicate effectively with people who have communication disabilities.
The key to communicating effectively is to consider the nature, length, complexity, and context of the communication and the person's normal method(s) of communication.
The rules apply to communicating with the person who is receiving the covered entity's goods or services as well as with that person's parent, spouse, or companion in appropriate circumstances.
What are auxiliary aids and services? They are ways to ensure that effective communication happens for both parties involved. A Blind or Low Vision person may need large print or an electronic version of an invoice or for prescription instructions. A person with a speech disability (such as from a stroke) may need additional time and/or may use a communication board. A person who is hard of hearing may need something in writing, such as captioning. A person who is deaf may use sign language, while another deaf person may not; so, the auxiliary aids would be different depending on the person and the situation. 
VRI is ONE of many fantastic auxiliary aids and services available for people who are deaf and use sign language. VRI is a fee-based service that uses video conferencing technology to access an off-site interpreter to provide real-time sign language or oral interpreting services for conversations between hearing people and people who are deaf or have hearing loss. VRI offers great immediate opportunities, especially in emergency situations, in places where it's difficult to locate or untimely to get an interpreter in person, or the communication is not complex or lengthy. Covered entities have the choice of using VRI or on-site interpreters in situations where either would be effective. VRI can be especially useful in rural areas where on-site interpreters may be difficult to obtain. Additionally, there may be some cost advantages in using VRI in certain circumstances. However, VRI will not be effective in all circumstances. For example, it will not be effective if the person who needs the interpreter has difficulty seeing the screen (either because of vision loss or because they cannot be properly positioned to see the screen, because of an injury or other condition). In these circumstances, an on-site interpreter may be required.
There are also strict standards that must be met when providing VRI:
real-time, full-motion video and audio over a dedicated high-speed, wide-bandwidth video connection or wireless connection that delivers high-quality video images that do not produce lags, choppy, blurry, or grainy images, or irregular pauses in communication;
a sharply delineated image that is large enough to display the interpreter's face, arms, hands, and fingers, and the face, arms, hands, and fingers of the person using sign language, regardless of his or her body position;
a clear, audible transmission of voices; and
adequate staff training to ensure quick set-up and proper operation.
VRI can be provided as long as it results in effective communication. If a customer indicates that it is not effective, steps should be taken to find an alternative that is effective, which can be on-site interpreting. As mentioned above, it is on a case-by-case basis. The key is to understand that VRI will not always be preferred because it is not effective in every situation. If, based on circumstances, VRI is not providing effective communication after it has been initiated or it is unavailable, VRI shall not be used as a substitute for an onsite interpreter, and an onsite interpreter shall be provided promptly upon request of the deaf customer. 
The use of VRI in the medical setting is considered controversial because there are differing thoughts on whether VRI constitutes effective communication. While personal preference is not what dictates the final decision, understanding the communication that takes place must be the deciding factor. The National Organization of the Deaf (NOD) provides this statement that is helpful in understanding the issues: National Association of the Deaf - NAD.
Effective communication is more than an exchange of information. Information is giving out; communication is getting through (Sydney J. Harris). Make sure everyone is getting through!