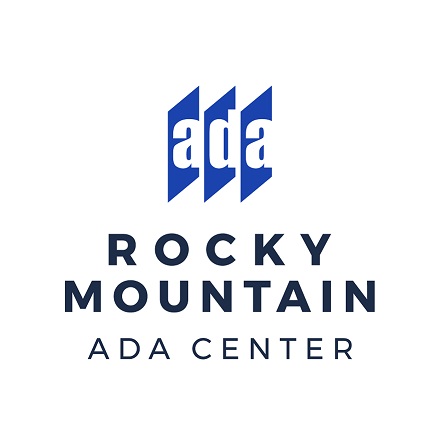 I've been in my role as the Director of the Rocky Mountain ADA Center for a over a year now. And, now that I am settled into the organization, I have found that my friends, family and community members are constantly asking me what exactly we do at the RMADAC.  And I have discovered that what I thought I knew about the Americans with Disabilities Act (ADA) and the Rocky Mountain ADA Center was only the tip of the iceberg.   
Here are a few things I would like you to know:
The ADA was signed into law in 1990; 28 years ago! The law prohibits discrimination and guarantees that people with disabilities have the same opportunities as everyone else to participate in mainstream life. It outlines the rights of individuals with disabilities and the responsibilities of many different entities to implement the ADA. It does not provide for special treatment or access for those with disabilities. Unfortunately, we still have a long way to go to full implementation of the law – 28 years later.

The ADA is a very robust law with different requirements for different types of entities. For example, the law spells out implementation in the hiring process for all employers. It defines accessibility to programs facilitated by state and local government. There are facilities access requirements for all public places (think retail stores and restaurants). The law even defines how telecommunication companies provide services for those who are deaf. How the law is implemented depends on the type of entity.

The RMADAC is one of ten Regional technical assistance centers funded by the National Institute on Disability, Independent Living, and Rehabilitation Research (NIDILRR), a division of the U.S. Department of Health and Human Services. We serve Colorado, Montana, North Dakota, South Dakota, Utah, and Wyoming by providing information, guidance, and training on the ADA. Focused on our specific region, we can cater to the unique needs of implementing the ADA in this area of the county.

One of the most valuable lessons I have learned since joining the Rocky Mountain ADA Center is that until you (or someone you love) are faced with a disability you are unlikely unaware of how this law affects you. Unless you use a wheelchair, you may not understand how it feels to try to order a drink at a bar. Unless you are deaf, you might not understand why proper captioning on a YouTube video is important. Unless you are blind, you might not understand how significant the unevenness of a sidewalk may be. The list goes on…and so many of us remain oblivious.
The vision of the RMADAC is to bring the ADA to full implementation. This is no small task and we realize we are shooting for the moon. But, we fundamentally believe that people with disabilities should have equal access to the same goods and services as any other citizen.
We are here to interpret the law, give guidance on how it can be implemented, and point people in the right direction. We're here to help. Please be sure to reach out to one of our qualified staff members if you have questions, need training, or would like some materials.