Featured Image
Image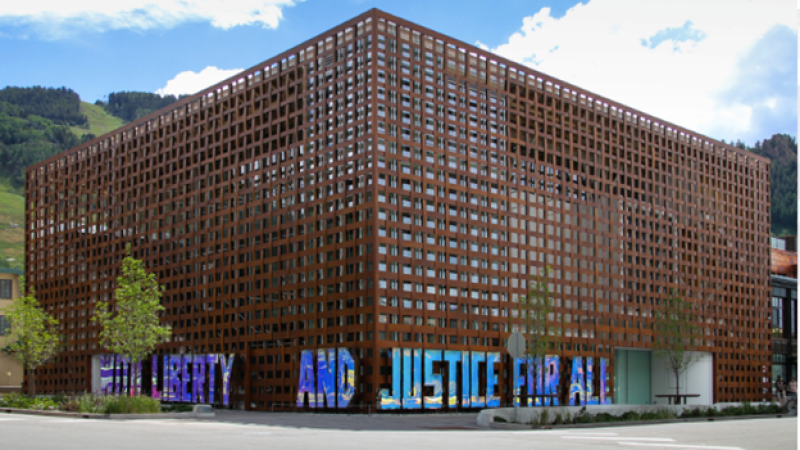 "When engagement with art is happening – there is an opportunity for change."  - Jim Hodges
A favorite artwork of mine is a text-based public artwork With Liberty and Justice for All (A Work In Progress) by the artist Jim Hodges. Constructed with polished stainless steel, this reflective work allows the viewer to consider their personal relationship to a familiar yet charged philosophical idea. With Liberty invites us to question current society and relationships to power, politics, and change.
The American Alliance of Museums defines accessibility as giving equitable access to everyone along the continuum of human ability and experience. Accessibility encompasses the broader meanings of compliance and refers to how organizations make space for the characteristics that each person brings.
Art is fundamental to human expression, and all people are entitled to its tools of communication. Contemporary art, by nature, challenges definitions and limits of what art can be. Of interest here is the kunsthalle - a facility that mounts temporary art exhibitions, similar to an art gallery. It is distinct from an art museum by not having a permanent collection. A place for experimentation and artistic freedom, exhibitions pop up in many forms. Some exhibitions include participatory artworks –artworks created to be activated by the viewer. The artwork is then "completed" when a viewer participates with their own body. Examples include: moving through a revolving door, ascending a staircase, swinging, entering a mirrored room through a small door, or maneuvering through an arrangement of objects presented on a gallery floor. Interestingly and regardless of an artist's intention, these artworks and built environments have the potential to exclude and discriminate against people with disabilities from participating.
The ADA is a wide-ranging civil rights law that protects people with disabilities. As art institutions like the kunsthalle continue to work with living artists to support their practice, it is the institution's responsibility to mitigate discrimination and provide creative accommodations and solutions. In short, here are the Title III laws pertaining directly to public accommodations:
Subpart B—General Requirements
§36.201   General.

(a) Prohibition of discrimination. No individual shall be discriminated against on the basis of disability in the full and equal enjoyment of the goods, services, facilities, privileges, advantages, or accommodations of any place of public accommodation by any private entity who owns, leases (or leases to), or operates a place of public accommodation.
§36.302   Modifications in policies, practices, or procedures.

General.  A public accommodation shall make reasonable modifications in policies, practices, or procedures, when the modifications are necessary to afford goods, services, facilities, privileges, advantages, or accommodations to individuals with disabilities, unless the public accommodation can demonstrate that making the modifications would fundamentally alter the nature of the goods, services, facilities, privileges, advantages, or accommodations.
Not much has been written about this topic, but through my own experience, I've come to understand there is no one-size-fits-all solution. Whether an accommodation would fundamentally alter the nature of the artwork or exhibition is reviewed and decided on a case-by-case basis.
Regardless, each case merits an earnest dialogue between the artist/s, lenders, museum staff, community members, and other stakeholders. The Rocky Mountain ADA Center is here to help art professionals navigate these complex scenarios. 
Other simple strategies that can help art organizations go above and beyond ADA compliance are:
Communicate with contemporary artists, creatives, and colleagues to not only embed but elevate ADA compliance from the inception of an exhibition, program, or event.

Establish an Access Community Advisory Group consisting of community members that either have a disability themselves or represent community members who are disabled or who have been underrepresented in contemporary art museums. This group can identify barriers to access, share knowledge and expertise, and advocate for change.

Take full advantage of the Rocky Mountain ADA Center's online resources, training, and workshops. 
THIS BLOG POST WAS WRITTEN BY REGION 8 ADVISOR Annie Henninger. Annie IS THE

Community, Access & Education Program Manager

AT Aspen Art Museum. 
The resources listed below aim to highlight organizations at both the national and local level that are working to push the art and disability conversation forward and provide opportunities for artists with disabilities.